Cyprus citizenship through investments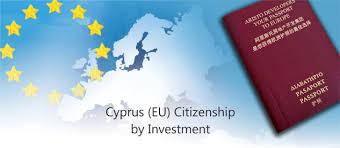 The Cyprus economy in the past few decades has been an ideal environment model for foreign investments. In order to encourage foreign direct investments in recent years, the Cyprus government has launched a special program allowing non-Europeans to be able to apply for a Cypriot Passport through investment or business ventures. As a citizen of a European state, the holder of a Cyprus passport will be able to enjoy the benefits of European interior market, such as free movement of goods, services and capital along with the ease of living permanently in any EU country, as well as the visa-free access to 147 different countries worldwide.
Even though equivalent programs have been set up in other countries in Eastern and Southern Europe (such as Greece, Spain, Portugal, Malta and Latvia), the Government of Cyprus currently offers the most attractive and flexible Business and Investment Scheme in Europe. The Cypriot Government, showing its willingness to by-pass time-consuming bureaucratic procedures, ensures a quick review of all applications submitted to the governing body.
The legislation based on which the Cyprus government grants citizenship status through investments is currently known as the "Scheme for Naturalization of Investors in Cyprus by Exception" and is legally based on sub paragraph (2) of section 111A of the Civils Registry Laws of 2002 – 2015.
Based on this scheme, to be eligible for a Cypriot passport investors must invest funds starting from as little as €2 million.
Main Investment Options
The main options offered to the interested applicants are:
An investment of at least €2 million in real estate (e.g. residential properties, offices, hotels, warehouses, apartment complexes etc.) or development projects like residential or commercial development, development in the tourism sector or other infrastructure work. Investment in a land that is situated in a building zone of zero development is excluded from this criterion.
A minimum of €2 million investment in Alternative Investment Funds established in the Republic of Cyprus, licenced by CySec and with investments that are made exclusively in the Republic of Cyprus. The investments must be retained for at least three years. The purchase of financial assets of Cypriot companies such as bonds, bills and securities of at least €2 million fall under this category as well. The aforementioned companies must have a proven physical presence and substantial economic activity within the Republic of Cyprus.
Purchase or participation in companies or organizations established and operating in the Republic of Cyprus, with an investment of at least €2 mil. There two further criteria that need to be fulfilled in this category: the company needs to have a proven physical presence in Cyprus, with substantial economic activity and turnover, as well as employ at least five (5) Cypriot or European Union citizens. This minimum number of employees will increase in case more than one applicants simultaneously invest in the same business or company.
Combination of the aforementioned investments, provided that the total investment will amount up to at least €2 mil. Within this criterion, the applicant may purchase special government bonds of the Republic of Cyprus up to €500,000 directly from the primary market, provided that these will be retained in his possession for at least three (3) years.
Terms and Conditions
All the aforementioned investments should be retained for at least three years.
Clean criminal record.
Permanent Residence in Cyprus. The residence's value must be at least €500,000, plus V.A.T. In case its value surpasses the specific amount, part of it can be used to supplement the required amount of investment. Additionally, in case the applicant has invested in housing units based on the aforementioned criterion, he does not need to purchase another permanent privately-owned residence, provided that the applicant retains the residence in his possession for life.
Residence Permit in Cyprus. Prior to his naturalization as a Cypriot citizen, the applicant must hold a residence permit in the Republic of Cyprus. If he does not already hold a residence permit, the applicant may apply for an immigration permit at the same time as the application for naturalization. The same thing applies for all the adult members of the applicant's family also applying for naturalization.
For more information: https://www.pitsasinsurances.com/en/
or
Email: [email protected]